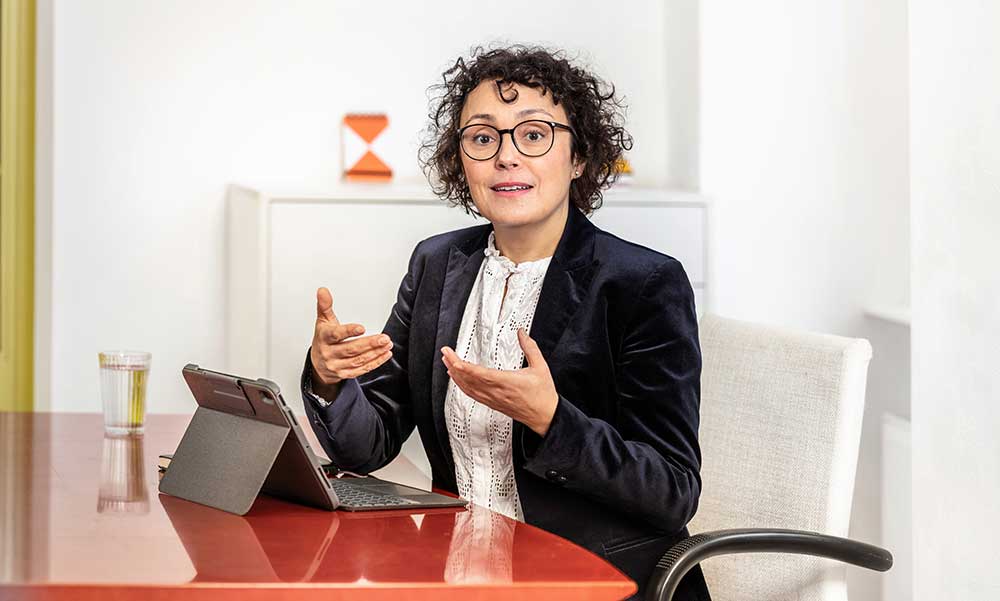 Selected projects, assignments, and publications
»
Thanks to her profound knowledge of politics and relevant actors in Tunisia and the MENA region as well as her native Arabic skills, Dina Fakoussa was able to win the trust of our team members and partners and to easily grasp their needs as well as issues raised. She developed concrete proposals for the strategic development of the new program cycle. It was an excellent cooperation characterized by effectiveness, target orientation, and a high commitment to deadlines.
«
Heike Löschmann – Country Director Tunis/Tunisia at the Heinrich Böll Foundation
Evaluating the work of a German political foundation on the Middle East and North Africa at its headquarters in Berlin as well as its office in Tunisia (2021-2022)
The evaluation focused on reviewing and assessing the instruments used by the foundation and on analyzing the impact of its activities, given the changing political framework. On this basis, recommendations were developed for the strategic adaptation of follow-up programs. The evaluation was based on qualitative data collection and analyses as well as on interviews conducted in Berlin and Tunis with dozens of relevant actors from the partner spectrum, decision-makers and parliamentarians.
Advising a German cultural institution on its proposal for EU funding to establish a political and cultural dialogue between Germany and the Gulf region (2020)
The assignment covered the preparation of analyses of the Gulf region's political and economic background and the development of a concept for dialogue formats. It included setting up a team of Gulf experts and reviewing the German institution's project proposal.
Preparing a background study for a private German foundation on the work of think tanks on Turkish foreign and domestic policy (2017-2018)
The German foundation commissioned an evaluation of the quality of think tank offerings and products for political target groups. The objective was to draw up innovative ideas for organizational structures. The assignment included mapping relevant think tanks in Germany, Europe and Turkey and interviewing EU officials and German decision makers on the quality of think tank products on Turkish foreign and domestic policy. Designing and organizing workshops with decision-makers was also part of the project. The study resulted in recommendations for improved advisory services and new organizational structures for think tanks' work on Turkey.
Selected speeches and moderations
Moderation of the "Raif Badawi Talk 2022" at the Frankfurter Buchmesse organized by the Friedrich Naumann Foundation in cooperation with the German Publishers and Booksellers Association (19 October 2022)
Presentation at the panel discussion "A new transatlantic relationship for the Middle East and North Africa – Can stronger US-Italian engagement help counter great power competition with China and Russia?" organized by the Atlantic Council and held at the Centro Studi Americani headquarters in Rome (7 June 2022) – starts at 1:04-1:15
Participation in the panel discussion "10 Jahre Arabischer Frühling: Demokratie und Entwicklung in der arabischen Welt – Welche Rolle für Deutschland und Europa?" organized by the Konrad Adenauer Foundation (16 December 2020) – starts at 00:46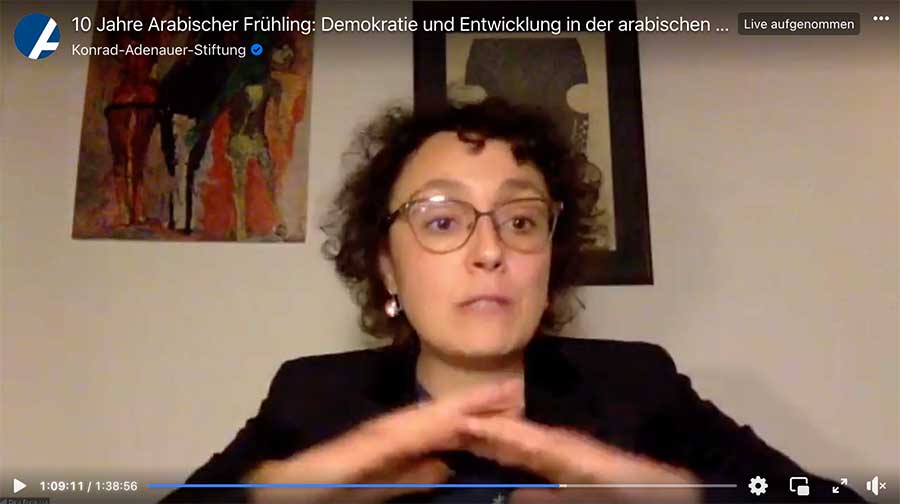 Project at DGAP e.V. to support think tanks and similar institutions in Morocco, Tunisia, and Jordan (2017-2019)
Over a period of three years, we conducted policy workshops and training measures in Berlin, Rabat, Tunis, and Amman to help local institutions professionalize and build capacities in the field of policy analysis and policy advice. The participants were staff members from academia, civil society, and politics in Morocco, Tunisia, Jordan, and Europe. During the workshops, they addressed issues of socio-economic reform, migration, security policy, extremism, and foreign and regional policies. At the end of each workshop cycle they drew up policy analyses, which were then published in edited volumes.
Funded by the German Federal Foreign Office
Example for workshops and publications
Socio-Economic Challenges and the Impact of Regional Dynamics on Jordan (2019/2020)
Research project at DGAP e.V. on the engagement of Saudi Arabia, the United Arab Emirates, and Qatar in Egypt and Tunisia (2014-2015)
This two-year project analyzed the factors driving Gulf policy in Egypt and Tunisia as well as the political and economic implications of the Gulf states' support – some of which ran into billions of dollars – for these two countries. An essential part of the work was to identify opportunities for Germany and the EU to cooperate with Gulf states in those two North African countries. The project also included field visits, policy workshops in Berlin and the region, background discussions with German decision makers, a final conference in Berlin, and a publication.
Funded by the German Federal Foreign Office
Project at DGAP e.V. for the promotion of young professionals from North Africa, Turkey, and Europe (2011-2016)
The project EU-Middle East Forum (EUMEF) offered students and young professionals from Egypt, Tunisia, Morocco, Turkey and Europe the opportunity to attend workshops, summer schools or political study trips. It also included education measures for instance on scenario planning as well as networking opportunities. Thematically, it focused on the transformation processes and democratic openings in the region at that time and on improving and adapting German and EU policies in the respective countries.
Funded by the German Federal Foreign Office and the Robert Bosch Stiftung GmbH
Examples of events